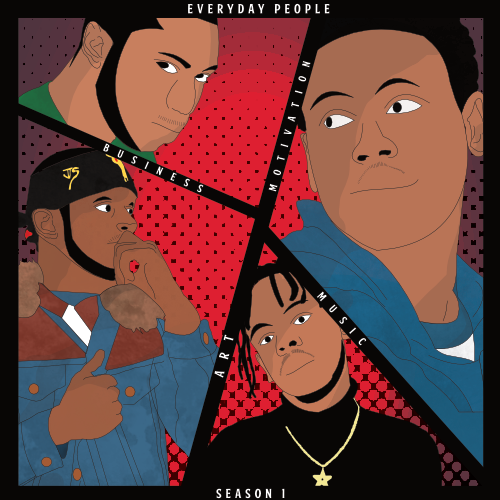 Everyday People is a podcast focused around music and the arts. Interviewing upcoming creatives who are changing the way we think about the industry and the business behind it all.

Episode 1
Steven Davis, retired veteran, tells us how he grew up from a young to the age he is currently. He got in a lot of trouble which caused a lot of backlash and issues. But after he graduated high school he decided to enlist in the army to serve a bigger purpose than being all about himself. Within the army he was a human resource specialist who taught a human resource class to all his brigade who was in the human resource department. He speaks on how his military travels and experiences have changed him significantly as a person along with having to look after soldiers younger than him he really found most of them came from broken homes or homes with no sense of structure. We all know that having no sense of structure at home can cause a young male to lash out on people or get into a lot of drugs / violence that they don't really need to get into. Plus being apart of the LGBT community and all that on top can be even more dangerous. 
We see children, adults, and even young adults take their life because of people who don't want to except which is a norm today. In some areas more than others but there are a many voices out there that will speak for them and sometimes it becomes too late for us to reach them. This isn't in the interview posted but Steven Davis and myself were apart of this group called Generation X where we wanted to provide a safe space for LGBT members to communicate and sort out all their problems with help from like minds. I was the president and he was the vice president and we set out on a mission to empower LGBT youth and young adults to be themselves. We started back in 2015 and we had to put a halt on things due to the climate of Facebook changing and things that we had going on outside of our group that took over that priority. But we will continue this conversation with a follow up on Generation X on a future podcast episode.
Episode 2
Some of us don't know the struggle of growing up in unfavorable circumstances but we do see it all around us. People going through living on the streets, no lights on in the house, kids not having the proper housing, and bullying. We sit down with KSNOW who let us in on the scene around St.Louis while understanding to grow through the struggle.
KSNOW didn't have family support for his rap career in the making but he did have the people around him that he can call family and every since then its been up from there. Of course there has been bumps in the road but it's all about taking it one step at a time like our friend KSNOW is doing and not letting anyone or any struggle get in the way of the goals that he wants to achieve.
Episode 3
Jasahn Stewart, Luxury Designer, who is the creator of drippy. You can describe drippy as a mouse or bear that drips. He decided to turn his love for the character drippy into a brand that is for high end consumers who want custom pieces of clothing ranging from pants, shirts, shoes, and anything else you can think of. The question is how do we get there? There are many avenues you can take such as partnering with other huge brands that want your product but it can be overwhelming like Jasahn said in his interview. But that came to short lived conclusion because you basically making the same product over and over again without being able to diversify your taste in whatever it is you want to create.
So he decided to stop dealing with stores and take on the full time load of entrepreneurship building up his name and doing custom clothing to big and small time people who want custom art on their clothing. In this interview, we speak on the challenges he faced at 22 years old while building up what he has now. Looking at the world and business of design in the world. Dealing with many different factors such as attitudes, budget, clients, ability to create what you want, etc. To hear all that is spoke on listen to the interview above.
Episode 4
Speaking to Moon we get a sense of not really knowing what our passion is until it hits us in the face. He started off as a mechanic but he didn't really care for the job after a while then he gets into acting school which turned out to be the best thing that happened to him. He broke down how acting school helped him come out of his shell to become the person he is today. Collaborating with others and understand the different vibes that are around him can have a huge influence on the way you live your life.
Moon went from mechanic to acting to music production to artist. Now he is an entertainer taking on all those experiences and skills he has gained into the music that he creates today either in the booth or on the laptop producing beats. I would say the biggest takeaway from this episode is you will go through a journey of self discovery changing different occupations but you have to know that it's okay to have a change of pace. When things are ready to present themselves they will.
Episode 5
Being from Jamaica, Overlord has seen some things but that's just one portion of him. Using all that he learned back home he brought his flow to the states and began making a name for himself. Releasing his project entitled "Nightmare on Eight Killy" you will get a sense that its a different style of music not really from the states but adapted to fit the style that he loves and wants to bring to others.

Episode 6
Out of the first season this has to be our favorite episode because we speak with one of the founding members of groovy music who has built up a name for himself as a producer and as an artist that is transforming the scope of music as we see it. Groovy music isn't just a hip hop group but stepping their foot in and on many different genres such as rock music, pop, and much more. TD6 of Groovy Music schools us in the game of music business which a lot of us don't really understand until we hear it from a veteran in the industry. As we sat down with him we learned about all the past deals that him and Groovy Music have made which turned out not to be good but despite all that they decided to do things their own way and slowly they have been building up their name all over.
Episode 7
Building up your name in a small town can be hard but sometimes you have to be in a small town to see the bigger picture of what your music is really about. FTF Star sits down with us and we understand from this interview to never doubt where you come from because it molded you into the individual you are today. On the move, FTF Star has had a lot of opportunities with big artist and they have collaborated on many different bodies of works such as his collaboration with music artist, Vino, called 
All I Need
. FTF Star said " I don't feel my name is big enough yet. Even though I have worked with big artist." So with that we want you to know that you should continue to build your brand no matter what occupation you choose. No matter who you work with it's up to you to make a name for yourself and find that purpose you was brought here for.
Episode 8
This week we break the mold and move away from hip-hop and meet the singer of a rock band. DivineWrath talks about remaining focus on the goals that you have for your career as a music artist and opens up about his songwriting process. How he translates rap lyrics to rock music which is an interesting process in itself. He gives us the exclusive behind who produced his tracks and how each song came about on his ep entitled 
Year Of The Dog 
. A five track ep about different issues that he has seen growing up around Long Island, NY. Speaking upon addiction, drugs, lose, and much more. Each song is filled with a deep emotion that you can't help but shed a tear. This is the type of music that I would consider listening to the most because rock music transcends all other genres in my eyes because rock musicians have figured out how to bring in other genres / styles into their own music creating a unique sound and story. This is what Divine Wrath has done with his ep and we look forward to hearing many more songs from him in 2018.
Episode 9
In the season finale of Everyday People as we bring a close to season 1 of the podcast we hear issues of growing in and out of the struggle. Tentoekidd from Lexington, KY had to be uprooted from his hometown to California in his 9th grade year of school so he could pursue better opportunities. Leading us to our next point, opportunities arise when you keep grinding and working on your craft. Tentoekidd has a distribution deal with Bentley Records which I call a huge opportunity to do things that he previously couldn't at the age he was at before. Now that he has his distribution deal there isn't anything standing in his way. It's only up from here.